This summer I did some unconventional traveling. After mostly living in countries, I blitzed through twenty countries in about four and a half months.
It was a huge change from my usual travel, which entails actually living in a place few months or years at a time.
Spending a summer in Europe was always on my radar, but the lack of novelty and the high cost kept holding me back. So when a friend whom I had met in Brazil invited me to stay at his London apartment for a few days, I knew that London was just the beginning of a great European adventure.
Once in Europe, everything is very close, and making those journeys is also very cheap. My Barcelona – Amsterdam flight, for instance, was only 40 euros – an amazing price considering I reserved it only two days in advance. If you plan right, it's not atypical to snatch a 10 euro ticket or even less for the same journey.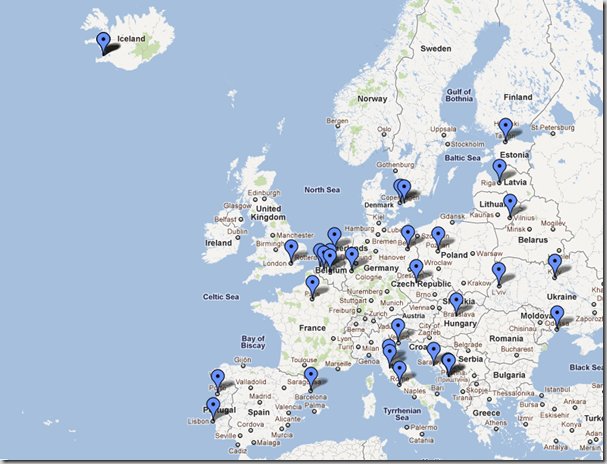 Complete list of cities: Reykjavik, IS; London, UK; Paris, FR; Barcelona, ES; Amsterdam, NL; Brussels, BE; Brugge, BE; Ghent, BE; Antwerp, BE; Cologne, DE; Berlin, DE; Copenhagen, DK; Malmo, SE; Tallinn, EE; Riga, LV; Lisbon, PT; Porto, PT; Poznan, PL; Lvov, UA; Kiev, UA; Odessa, UA; Venice, IT; Florence, IT; Siena, IT; Split, HR; Dubrovnik, HR; Cavtat, HR; Rome, IT; Prague, CZ; Budapest, HU; Vilnius, LT
Which gives a grand total of 31 cities in 22 countries (I also briefly passed but stopped in Bosnia & Herzegovina and Slovakia, but I didn't count cities that I merely had a stopover like Moscow)
While a lot of my traveling was solo, I also used it as an opportunity to visit people I originally met elsewhere – mostly in Brazil where I was living few years back.
At times it felt like a surreal, almost a James Bond-esque lifestyle, as I was spending most of my time on skyscanner.com and hotels.com booking flights and hotels. One day I was in Kiev, next day I had to say goodbye to a girl I just met because I had an early morning flight to Venice. One day I was lying in my hotel room in Berlin sweating to blistering sun, the next day I was waking up to a rainy morning in a friend's apartment in Copenhagen.
The downside is that it's definitely not for penny pinchers. While the base flights can be cheap, adding in luggage and various other fees quickly jacks up ticket price. A lot of times I stayed in expensive hotels and went out all the time, easily spending good money that would've been saved had I had my own apartment and cooked my own meals.
The constant moving around eventually caught up with me. Cities began to look the same. I stopped trying to decipher the local language. One morning I woke up in a house on the outskirts of Budapest, and for the first ten minutes my mind was completely blank in terms of realizing where I was the last few days, and how I ended up in Budapest. And, no, I wasn't involved in binge drinking the night before.
Nevertheless, while it definitely wasn't a "deep" style of traveling where I get an apartment, learn a foreign language and build a social circle, it was a nice break from the monotony of Latin America and a way to experience many new countries in rapid succession.
Winners and Losers
Longest time spent: Copenhagen (1 month)
Shortest time spent: Reykjavik (8 hrs)
Longest journey: Poznan to Krakow (10 hours train)
Shortest Journey: Riga to Tallinn (40 min flight)
Best beer: Belgium
Worst beer: Latvia
Best food: Italy
Worst food: Czech Rep
Tallest people: Lithuania
Shortest people: Portugal
Most beautiful city: Paris
Ugliest cities: Lisbon
Most beautiful old town: Prague
Ugliest old town: Lisbon
Overrated city: Venice
Underrated city: Berlin
Most beautiful girls: Ukraine
Ugliest girls: Spain
Nicest people: Denmark
Rudest people: Spain
Most Picturesque: Croatia
Least Picturesque: None
First place to revisit: Riga
Last place to revisit: Barcelona
Most diverse: Barcelona
Least diverse: Croatia
Hardest Language: Hungary
Easiest Language: Italy
Best Weather: Croatia
Worst Weather: Denmark
Nicest Airport: Budapest
Ugliest Airport: Odessa
Best English non-native Speakers: Denmark
Worst English non-native Speakers: Ukraine
Best place to retire: Croatia
Best place right now: Denmark
Are you interested in turning your ideas into a location-independent business? Interested in learning directly from someone who's done it before and has ten years of experience to back it up? In that case, check out the new program called
Maverick Mentorship
.
It's an exclusive, limited time program where you get to work directly with me on turning your passions and interests into a sustainable location-independent business.For more information, please see
Maverick Mentorship
---
James Maverick
James Maverick used to work in a cubicle as a code monkey in Silicon Valley. Then, in 2007, he quit his job and a one-way ticket to Brazil. Ever since, he continued to travel, visiting over 85 countries and living in more than a dozen of them. He loved his location-independent lifestyle and has no plans to live in America.