Why start a blog
Many people view a blog as a place where they can spill what they're doing every day, as a sort of a diary, something that they may share with their relatives or friends.
But that's the wrong way to look at this.
The right way is to view blogging as a business.
When you view blogging as a business, you start to view it as a money-generating machine, where the more you put into it, the more you'll get out of it.
Although you're reading this blog, this is just one of the many blogs that I run and make money from.
In this guide, I want to tell you a really straightforward way to start a blog and make money online.
Before you even start a blog, you need to complete two steps: register a domain name and set up a hosting account.
Starting your site with Blue Host
While there are many hosts where you can host your site, we highly recommend Blue Host.
It's affordable, reliable and we host a few of our sites there, so it definitely works well.
The hosting is extremely affordable, so you won't need to pay more than $5 per month or so.
During the setup process, you'll be prompted to either register a new domain or configure an existing domain you may already have.
Choose register a new domain and input your chosen domain here.
Choosing the right plan and domain
The domain name you choose will represent your brand so make it memorable.
I recommend a name that's easy to remember and it should end in .com.

While one word would be ideal, you'd have better luck picking something with two words or maybe even three.
Stick to three words at the maximum.
You can use this domain name generator to think of names.
As soon as you have a good name, don't register a name yet; you're going to do it in the next step where you choose the hosting package.
I would recommend starting with a cheaper plan. You can always upgrade later on if you need to.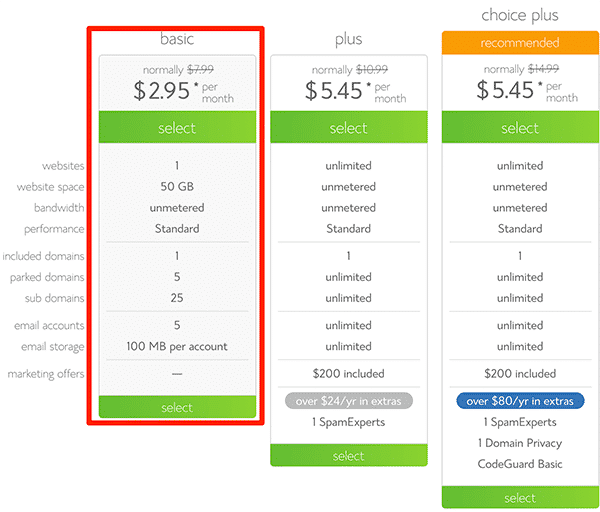 Here's where you fill out your personal contact information as well:

Installing a WordPress and a few basic settings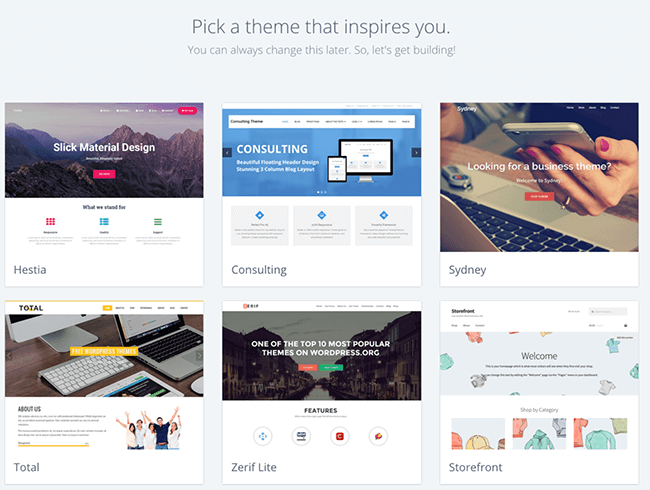 Once you've signed up for an account and configured hosting, the next step is to configure WordPress.
WordPress is the most widely used blogging platforms on the Internet.
It's what I use for my numerous blogs and what pretty much everyone else uses as well.
It's highly configurable because you can configure other themes, plugins which can make your site look and function exactly how you want to.
Getting traffic to your blog
As soon as you've configured your site, the next step is to get traffic to your site. After all, a site without traffic is like a great restaurant without visitors; it isn't worth much.
There are two ways to get traffic: free and paid.
Paid traffic is when you purchase either clicks or views. That's when people advertise various products and services in an attempt to find people who would be interested in buying those products and services.
Free traffic is when you position your site to rank for certain keywords and receive traffic in exchange.
That's called search engine optimization (SEO).
While a thorough discussion is beyond the scope of this article, I will give brief advice so that you can get started on the way to rank your site and get free traffic.
Creating SEO friendly content
In a nutshell, SEO is about picking various keywords that are important to your business, creating content around them so that they can rank well in Google.
There are two primary kinds of keywords: short tail and long tail.
Short tail keywords are very general, high volume keywords that usually have a lot of competition.
Long-tail keywords are more specific, lower volume keywords that aren't as competitive.
For instance, let's say we're targeting a weight loss niche and so our keyword is: "weight loss."
That's an example of a short tail keyword. It's very general, has high volume and very competitive.
On the other hand, something like "how to lose weight fast in 2 weeks" (an actual keyword) is a long tail keyword because it's much more specific, has lower volume and isn't as competitive as "weight loss."
When you're starting out with a new site, you want to target long-tail keywords because as a new site, you won't be able to rank for those super-competitive short-tail keywords.
Those keywords have been conquered by more established sites with a proven track record on Google's eyes. Think many years of being out there and amassing a ton of various backlinks (another important ranking factor).
So, in this example, what I would do is to create an article with a title "how to lose weight fast in 2 weeks" and then write a guide on how exactly to do that.
While there's no guarantee your article will rank at all—there are no guaranteed with SEO—you have a much better chance of ranking for these keywords than a much short, but much more competitive short tail keyword.
For keyword research, I highly recommend this free tool: Ubersuggest's Free Keyword Tool, Generate More Suggestions
Once you pick your niche, begin researching various keywords, and target the keywords with lower volume (aim for at least 1,000 searches per month).
Quora
While Google SEO is a versatile and time-proven method of getting traffic, it's certainly isn't the only method out there.
Another method of getting free traffic is to participate in all kinds of sites that rely on user-generated content such as Quora and various forums.
Quora is a super popular Q&A site where people can ask and answer various questions about anything.
For instance, if you're in the weight loss niche, you can search for questions pertaining to your topic, answer them and provide a link to your site.
This would establish you as an authority in the field and also give you a healthy dose of traffic to your site.
Guest posting
Another way to get traffic to your blog is by commenting on blogs in a similar niche such as yours.
For instance, if your blog is about "intermittent fasting," you can find other blogs in niches such as "weight loss," "keto diet" and other blogs that talk about weight loss and dieting.
The reason this works is that when you leave comments on blogs in a similar niche to yours, you get back a link to your blog.
Google notices there's a link back to your blog and awards you little more authority and "link juice."
This helps to rank your pages for various keywords faster.
Forums
Various Internet forums are another great method of generating free traffic to your blog.
Simply pick your niche, join the forum and begin posting questions or answers.
So, you can either start a new topic and ask a question or simply reply to an existing topic with your thoughts.
When you're new to the forum, I wouldn't recommend promoting your site every time because people will think you're a spammer and not trust you and might even ban your content.
A proven way to promote your content is by including a signature under your posts. That's a subtle but very effective to promote anything you have to say.
Facebook groups
Another good avenue for free traffic is Facebook groups. Choose a niche, join a bunch of groups associated with that niche.
Initially, you should strive to add value by posting good content and helping people.
Then, every now and then, you can include an article on your site to content that's relevant to the content.
As I mentioned above, don't do that every time because you'll be regarded as a spammer and people won't trust you very much.
Pinterest pins
Pinterest is another social network where you basically create "boards" and post different pins there.
Each of these pins could have a link to a site.
The real benefit of Pinterest is that you can join other boards that have a lot of members already and post there, therefore exposing your content to lots of different audiences.
YouTube
Last but not least, we have YouTube, the second most-trafficked search engine after Google.
A good way to get free traffic from YouTube would be to create a new channel dedicated to your niche, then create videos focused on particular keywords.
You don't even need to physically appear in the videos, you can simply use other public domain images or videos, mash them up together using a third application and upload the videos.
A lot of people have had good success employing these tactics to generate lots of traffic and sales.
Growing an email list
Last, but not least, another way to get traffic to your blog is by growing an email list.
That's done by first asking people to subscribe in exchange for some sort of a "gift." That can be a free guide that solves a problem that the users have.
Once you have a sizable list, you can send them an email every time you write a new article.
The new article, in turn, generates more subscribers and those new subscribers will provide the traffic for new articles.
This is a great strategy because no matter what happens to other social media channels, you'll always have a list of dedicated readers who're always eager to see your new content.
Other traffic sources
While I can keep going and talk about many other traffic sources, the fact remains is that there are virtually unlimited ways to generate tons of targeted traffic to your new blog.
Keep creating content
When you initially start your site, it will feel difficult to keep going because you won't have much traffic.
That's absolutely normal and happens to everyone who starts a site.
It's important to persevere and keep creating new content. If you're creating content around keywords that you've well researched, then you should be getting at least some traffic from your content, regardless if it's via Google Search, YouTube or another channel.
Regardless, of how you decide to promote your content, you must remember to always create new content as well as improve your old content.
Content grows stale over time as new information becomes available, so improving old content is very important.
Moreover, Google loves websites that frequently update their content and gives them better ranking over websites that do not.
Final thoughts
I hope you've enjoyed reading this tutorial on starting registering a new domain name, starting a blog and driving traffic to it.
Of course, there's a lot more to it, but it helps to start with the basics and keep going.
The most important thing is to start and overcome the obstacles as they occur.
That will set you apart from the other 99% who don't even bother to do that.
Best of luck in your endeavors.