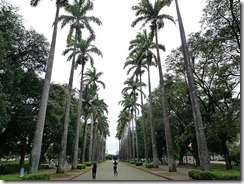 Belo Horizonte is the 5th largest city in Brazil as is a capital of Minas Gerais, a land-locked state north of Rio de Janeiro.
It's a cosmopolitan city dotted by museums, parks and, to compensate for the lack of beaches, the largest per capita concentration of bars of any Brazilian city.
My first visit to the city was in June 2009, but I barely spoke Portuguese, and furthermore it was only for one night.  I decided to return to the city after I finished my Rio stint to check it out again.  I left several months later.
The biggest benefit to Belo Horizonte is its disadvantage: lack of beaches.  Thus, the city had to evolve to develop an alternate social scene.  It has large concentration of bars, and few clubs as well.  The result is it's much less of a shallow city than Rio with its beach culture.
I was fortunate enough to meet an awesome girl in the first few days in the city.  She showed me around and introduced me to her circle of friends.  One night I was in a group of ten people actively discussing some pressing issues in Portuguese.  I was integrated into their social circle instantly, something that as far as I remember, never happened in Rio.
The other big benefit is that in two weeks that I've stayed there, I did not speak a single word of English; I simply did not meet a single foreigner.  I spent many hours talking to the hostel owner about issues of safety, about Brazil's economical growth, etc.  Topics that challenged my existing Portuguese knowledge and improved it.
I probably would've spent few months in the city had not I had a flight out of Brazil shortly.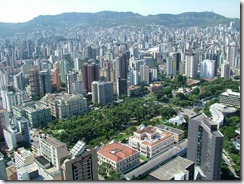 Orientation
The city is a vast expanse of urban sprawl, but the areas of interest will likely be in the area bounded by the Avenida do Contorno.
Live
Serra: I stayed in this is a residential neighborhood just outside the Av. do Contorno perimeter, located slightly to the right.
It's a quiet neighborhood with nothing to do, but is cheap, and you can grab a bus (15 mins) to get to the center or just walk (20 mins).
Savassi: This is the bohemian neighborhood of BH.  A lot of coffee shops and affluent restaurants are located here.  Great for people watching and hanging out.  When young people think of Belo Horizonte, Savassi is the first thing that pops up.  This would my preferred neighborhood for living.
Lourdes: This is a more upscale neighborhood located adjacent to Savassi, which houses some nice bars and restaurants.
Funcionarios: A blue colar neighboorhood.  I went here few times to grab some cheap food by the kilo (Comida a quilo).
Center: The business heart of BH.  Similar to Funcionarios in terms of eating options, but not much else.
Eat
Grab a copy of Veja Belo Horizonte for restaurant reviews and ideas.  Most restaurants serve food by kilo during lunch (roughly 12-3pm) which is what I did most of the time.  I liked K-Bab, Nectar da Serraand Eddie Fine Burgers
Make sure to checkout Cafe com Letras.  It's a bohemian cafe shop that serves food and mean caipirinhas.  It's also the only place in Brazil where I've seen people working on their laptops in the outside areas.
Also, make sure to swing by Lourdes area on a Sunday afternoon to see very beautiful people enjoying their beer.
Sleep
I slept in Hostel Taiua ($) for all two weeks of my stay.
During the two weeks, there're were very few guests so I had the whole thing all to my myself.  Not bad for $16 a night.  The owner was extremely helpful and answered all my questions.  I did speak to him in Portuguese, so your mileage may vary.
Nightlife
My favorite club is Swingers.  It's about 20 minute taxi ride from the city center, but worth it in my opinion.  Bring your wingman and your A game.
Interested in building your own passive, location-independent business? Want to avoid needless trial and error? Want to start off on the right foot under proper guidance?

Check out the Maverick Mentorship program. It has helped 100s of guys just like yourself to build their own business. Click here to learn more