While I've traveled and lived all over Latin America and have seen and talked to many different types of Latin women, there's no doubt in my mind that women from Medellin, Colombia take the prize for one of the most beautiful in all of Latin America, if not the world.
There's just something special about women from Medellin, and I don't know what it is. Must be something in the air.
Medellin women characteristics
Medellin women are special not only when it comes to comparing them with women from other countries but also comparing them to other Colombian women.
It seems that no matter where you go—regardless of which city you' re—women are different. In Bogota, the women are mostly light-skinned with a touch of indigenous thrown in; in Cali, women are darker, shorter, but with huge butts; in Cartagena, women are typically darker, many are black, and exhibit that familiar Caribbean vibe.

How do women dress in Medellin?
Medellin women typically dress very feminine. Since Medellin is a city of eternal spring and it's always very warm, no matter the time of the year, Medellin women don't shy away from wearing stylish tank tops, nice jeans and even a pair of high heels regardless if they're going out at night or just running errands during the day.
Of course, things pick up a bit at night with the women removing all the barriers to dressing nice, whether it's stylish black tops coupled with nice short miniskirts or something else. High heels are always in style, no matter what.
5 Things you must know about Medellin women
Since Medellin women are very specific in their appearance and behavior and can radically differ from their other Colombian counterparts, it's worth mentioning a few important things:
Medellin women can appear a little egocentric. In my experience, many of the women I met in Medellin acted as though they're the most awesome creatures to ever exist, but also as if Medellin is the greatest city on earth. After digging further, I realized that most of these women have never left not only Colombia but Medellin and saw what the world was like with their own eyes.
Medellin women are very flaky. While Colombian women are flaky, nowhere else in the country did I experience the same level of flakiness as in Medellin. It was mostly a given: you must always have a backup of 1-2 other dates even if the girl was sure of meeting you. Better safe than sorry.
Medellin women love fancy things. I suppose this applies to women all over the world, but I believe there's something more to it when it comes to Medellin women, too. The women are not very shy about what they want and what they like, and will have no issues telling you how they enjoy the "finer things in life." It's not fun to be a broke backpacker in Medellin.
Medellin women can be jealous. This is mostly a Latin American thing and, especially, a Colombian thing, but Medellin women can become very jealous if they sense something is off. Get ready to be asked about your other female girlfriends or where you were last night, or why did you come home so late. If you're used to laid-back women, Colombian women are not like that.
Medellin women are very family-oriented. Having said all that, it pays to mention that Medellin women—like other Colombian women—are very family-oriented. I have met countless women who will drop what they're doing to meet their families if needed. Also, many of them can be very religious, too. But I suppose that applies to the rest of Colombia and Latin America.
Advice when meeting Medellin women
First of all, as a foreigner don't approach Medellin women as a sex-tourist who's just looking to get quick sex and then bounce out. Treat them with respect, like you would any other kind of woman. When you treat them with respect, they will treat you back with respect, too.
That doesn't mean you should be a "nice guy" who's always agreeing and doing what they tell you. Of course, you must still have a backbone, have a certain edge, don't be afraid to have an opinion, and have some principles when dealing with women. Colombian women respect a man who has opinions.
Don't chase women who have low, lukewarm interest in you. If a woman is only moderately interested in you, don't force her to like you. Just find another woman. There is plenty of fish in the sea, so there's no need to force women to like you when you can find a woman who'll love you for who you are.
Don't deal with women who flake on dates with a really good excuse. As I mentioned above, Medellin women are flaky, so if they skip on a date with you without first giving a serious excuse, tell her that it's not ok, and see if she'll apologize and make it up to you somehow. If she keeps flaking and doesn't show any remorse, drop her and find another woman.
Don't act or appear needy. All women hate needy men, but Colombian women especially hate men who act super needy around a woman.  Colombian guys are very masculine and rarely act needy around women. Don't become one of those needy guys.
Where can I find Medellin women?
You can meet Medellin women pretty much all over the city in places such as coffee shops, restaurants, on the street, bars, and even public transportation. (I once met a very beautiful girl while riding the city's metro.)
Nightlife in Medellin is another good time to meet women. Most of the action revolves around Parque Lleras with a bunch of bars/clubs surrounded the park.
If in doubt, walk around the park and start conversions with women you find attractive. Since many of them will be in the party mood, they wouldn't mind making new friends at all.
There are also some cool bars/clubs in areas such as Poblado and Laureles, which is my favorite neighborhood in all of Medellin.
Is Medellin safe?
As with Colombia as a whole, most people are worried about safety in Medellin. This is a correct concern as the entire country and city experienced a wave of crime in the 1980s and 1990s. Medellin is also the home of the late Pablo Escobar, the infamous narco trafficker.
Fortunately, Medellin has more than cleaned up and has rapidly developed into one of the most vibrant, efficient and cleanest cities in all of Colombia and maybe even Latin America.
When I lived in Medellin, I've never felt in danger and never experienced any issues with security or feeling like someone might rob me. I was also never pick-pocketed and ripped off by anyone.
All in all, I felt that Medellin was an extremely well-run and safe city, much safer than your typical big city in America or Western Europe.
Does tinder work in Medellin?
Like in the rest of Colombia, tinder does work in Medellin and is a great dating app for meeting women. When I was in Medellin, I used tinder to meet all kinds of women, not only in Medellin but in the rest of Colombia as well.
Having said, it's important to mention that tinder primary attracts women who're looking for short term flings and more casual relationships. That has not only been my experience but the experience of my many other friends as well.
Thus, if you want to meet quality Medellin women, I would highly recommend a much better Colombian dating site such as Colombian Cupid, which you can learn more about in my Colombian Cupid review.
Ultimately, the choice is up to you.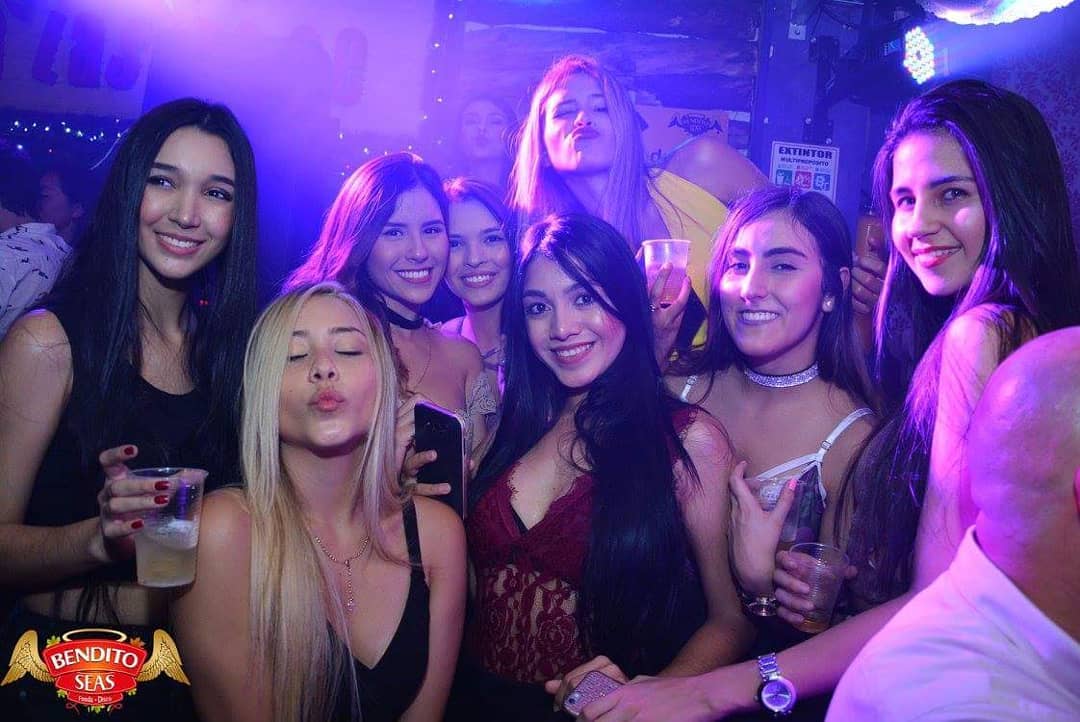 Medellin Colombia nightlife
Medellin nightlife is situated around the Parque Lleras in the center of the city. Surrounding the park is a bunch of nice restaurants, bars and even some cool loungers that you can check out.
The park itself is a great place to chat up with Medellin women that are walking around and thinking about what to do. If you're new to Medellin, it might be a great idea to chat up one of them and see what they're doing. You can use the "I'm new to the city" angle as a conversation starter.
Aside from the center, there are also great bars and clubs in the sleepy neighborhood of Envigado, El Poblado, Laureles and even some of the other neighborhoods that are off the beaten path and, thus, mostly filled with locals. That will guarantee you'll have a much more interesting time there than in the gringo-filled bars and clubs.
Closing thoughts
Medellin women are beautiful, sexy and extremely feminine. They're also very difficult to get to know and seduce. Fortunately, after you work through the tough outer shell, you'll discover a very soft interior that's eager to get to know you and fall in love.